Microsoft has released Windows 11 a few hours ahead of schedule to be available on the announced date (October 5) in all time zones. This version of general availability (final and stable) comes as the necessary revulsive that the operating systems of the Redmond firm needed. Although it is more of an evolution than a revolution, mixing the base and latest news of Windows 10 and the development work done for Windows 10X, there is no doubt that its announcement was a pleasant surprise and you are probably waiting for it to update your computer. And it's already here.
Microsoft delivers it as free update for PCs with a valid Windows 10 license that meet the minimum hardware requirements. It also offers it in ISO images for new installations, running on virtual machines, or upgrading third-party PCs, as well as being the reference version of Windows that OEMs will use for pre-installations on new computers.
Microsoft will perform a very gradual rollout for the launch of the new operating system. So much so, that completing the program will take months ("until mid-2022") in order to improve stability in deliveries and fix the bugs that are being reported to those already known. For the selection of the first computers to update from Windows Update, the company is using AI algorithms that – in theory – should select the most compatible ones based on the hardware and software they include, reliability metrics, age of the computers and other factors that affect the upgrade experience.
In any case, users will be able to advance the system installation by downloading the update or ISO images from Microsoft's website. Also use Windows Insiders to get it, since the development of the system does not stop with the release of the stable version and the company has already published higher builds (not stable) for subscribers to this program to continue testing it in the channels of 'development' (more advanced and unstable) and 'beta' (somewhat more stable).
Requirements for Windows 11
A controversial chapter that we have had to talk about the last few months almost more than the new features of the version itself. As you know, with the stated goal of getting computers to  "more productive, safer, and more secure", Microsoft has increased minimum hardware requirements over previous versions of Windows.
If the increase in RAM and disk space are reasonable and the vast majority of existing computers more than comply with them, other components such as a processor included in the official list, a TPM security module or UEFI secure boot, are not available to all and a good part of computers will not be able to use Windows 11. Officially..
For unsupported PCs, Microsoft recommends upgrading hardware to meet the requirements, buying new PCs with the system pre-installed, or simply staying on Windows 10 whose official support will run until 2025. In practice, and as we had pointed out from the first day, almost any PC will be able to run Windows 11but Microsoft will not support them under the "warning" that those installations will not be updated with new features or even new security patches. All of this is yet to be finalized once the system is deployed.
The minimum hardware requirements are known and apply to both physical and virtual machines:
Processor: 64-bit CPU with 2 or more cores, but included in this listing.
RAM: 4 GB.
Storage: 64GB.
Graphics chip: DirectX 12 compatible with WDDM 2.0 driver.
Firmware: UEFI compatible with 'Secure Boot' feature.
TPM: Secure Platform Module version 2.0.
Display: 9 inches with HD resolution.
Internet connection for Windows 10 Home.
Windows 10 version 2004 (or higher)
If you are not sure if your computer meets the minimum requirements, it is best to check compatibility with the "" appPC Health Check" that Microsoft has published or with third-party applications such as the free and open source, âWhyNotWin11.exeâ. Just yesterday we published a practical article where we showed how to perform a pre-check of the necessary hardware and explanation of each of the components requested.
What's new in Windows 11
The revolution will have to wait because Windows 11 has little of it. It offers familiar elements and supports much of the legacy of the giant Windows ecosystem. A hybrid made based on the Windows 10 core, with the last new features we had seen for the fall version of Windows 10 (to be released later) and a good part of the work done in Windows 10X, a version that started as the first of the Windows Core OS project and original destination for foldable devices and that today is discontinued.
That is not to say that Windows 11 is not welcome Windows 11 is familiar, but "fresh," more like Windows 10.5 than a generational leapbut necessary to overcome the "want and can't" of Windows 10 and as a revulsive for the industry that comes at a time when sales of new PCs have recovered and also the sale of components to upgrade equipment.
Interface and visuals
"A new Windows experience that brings you closer to the people and things you love", highlights Microsoft in the marketing of a development that has in the visual changes the first major novelty that the user will see, as long as they had not tried Windows 10X because many elements were known.
The placement of the Start bar in the center of the desktop is the most visible change in appearancealthough the user will be able to move it to the left side. The menu is also new, saying goodbye to the "tiles" that were the hallmark of Windows 10 and have not ended up pleasing. Rounded edges, the reappearance of transparency and a (well-finished) dark mode are other improvements.
In the interface stands out as a novelty the Snap groupswhich allow you to select a specific arrangement of multiple windows, in 1/2, 1/3 and 1/4 divisions, to work with two, three or four windows open at the same time and organize them very easily. The ability to snap windows into preset slots on the desktop already existed, but this new feature makes things easier. Hovering over the "maximize" button in the upper right corner of most windows will bring up a pop-up window that displays the options.
There is also an improved function for multiple desktopsAnother good way to organize the various tasks we devote the computer to, productivity, gaming or multimedia as an example. organized multiple facets of your digital life. They can be hot-swapped between them as it is really just a change in the way open applications are displayed. They have their own icon on the taskbar, can use different wallpapers, and are much improved over what Windows 10 had to offer.
And the widgetsWindows used to have them built in too. They were called Gadgets and died with Windows 7. They show up in the revamped version of the info and interests bar and have their own button on the taskbar to make them easier to find.
By default, it includes widgets for weather, Outlook calendar, OneDrive photos, a to-do list and a few others in a semi-transparent panel, plus the news section. You can customize the list a bit, but there aren't too many options for now. I'm sure it will improve in the future and if you don't like it, it can be easily discarded.
Another largely renewed section has been the pack of icons. Some were already released in the latest versions of Windows 10 and others are derived from Windows 10X.  They are offered in various styles, combine better with the dark theme and are undoubtedly more attractive in graphics and in the new Segoe font, than those of Windows 10.
As for the Auto HDRis a feature that has been carried over from the Xbox X Series console and gives games that are not High Dynamic Range certified an enhancement in lighting, brightness and contrast for a look and feel more similar to those that do support HDR.
Microsoft has, of course, debuted new themes and wallpapers and implemented the design language Fluent Design which it has been using since 2017 to renew the visual sections of operating systems and applications in multiple places of the operating system. The goal is to definitively overcome the inconsistency of Windows 10. The task remains, but it is on the right track.
Applications
Microsoft has renewed some of the native applications of the system, those that are delivered within the own software that Microsoft includes by default and that saves the installation of third-party software for certain tasks. One of the examples is Paint, one of the great classics of this group as it is part of it since Windows 1.0 in 1985 and has been included in successive versions with the exception of the launch of Paint 3D that was intended to replace it.
Like other updated applications, see the cropping tool Snipping Tool, the changes are more aesthetic and usability than functionalin line with the new visual and interface features of the system, integration with the Fluent design language, rounded corners and variants with the light or dark system theme.
In that vein, Microsoft has also updated a number of other proprietary side-development applications that are not included directly with the system but are used by users such as PowerToys. Another group of proprietary software such as Office will also be better integrated with the new Windows 11 visuals, and major third-party applications are expected to follow suit.
Microsoft Store
Microsoft has been trying for years to replicate the Apple model with the goal of a more controlled and unified platform that would serve its PC and mobile strategy equally well with the same system and applications. A digital store was key, and Microsoft's digital store (formerly called the Windows Store) has not lived up to expectations on either front.
The Microsoft Store for Windows 11 should be a before and an after under the promise of "an open shop for an open platform". More profitable, with better performance in all areas and ultimately, more attractive to developers and users, starting with a new application (client) that improves the current one (slow, unintuitive and unattractive) with a new WinUI design, iconography and fluid animations in tune with the changes made in the operating system.
More important are the internal changes. Microsoft will allow developers to submit unpacked Win32 applications to the store. That is, they will be able to upload the typical .exe or .msi executables (without converting them to UWP) that we can get in other Internet sites. The new store will allow you to upload applications created in almost any framework, Win32, .NET, Java, UWP, web applications including the promising progressive ones, and also Android ones once the corresponding subsystem has been created.
Microsoft will also allow developers to host applications and updates on its own content delivery network (CDN) and the use of third-party e-commerce platforms in applications, which is a absolute novelty in software stores. Developers will also be able to manage their own payment method in the application and avoid sharing revenue with Microsoft.
Performance
Microsoft promises that Windows 11 should feel more responsive and agile than Windows 10 on the same hardware. And it will do it on the new processing platforms and also on older hardware, the supported one is understood. To do this, we have worked on memory management, favoring applications running in the foreground to be prioritized with higher CPU usage and assigning them other system resources.
In practice, foreground software optimization also applies to the Windows shell itself, as well as open tabs in apps like Microsoft Edge thanks to the Sleeping Tabs feature. Microsoft claims to have seen an average savings of 32% for memory and 37% in CPU usage. All of these combined operating system and application optimizations should also result in longer battery life on laptops.
The optimization improvements should also get PCs to resume from sleep mode faster than before, after optimizing calls to hardware components that need to power on for better overall memory management and at the software layer by reducing key threads. The Windows Hello biometric authenticator should also be up to 30% faster thanks to code optimizations, Microsoft says.
Another standout in this section is DirectStoragean API that will allow the workload of using a PCIE NVMe SSD to be shifted from the CPU to the GPU. By using a GPU, this provides much higher bandwidth and accelerates the decompression tasks required to work with a high-performance PCIE SSD. This also minimizes the impact of these tasks on the CPU. This feature is also coming to Windows 10.
Finally, it is worth noting the good performance of the Game Mode in previous versions of Windows 11. It still won't work miracles, but from the tests it will be more useful than in Windows 10 and we'll be able to get some extra FPS. And if the kernel can be further polished and legacy components removed, it can surely advance in performance, very important beyond the visual renovation.
Updates
Microsoft definitively abandons the Windows 10 semi-annual update delivery program that it has definitely not been able to materialize with the required stability Windows 11 will only receive one update per year of features, functions and new technology support, which should give you plenty of time for development and testing, delivering more polished versions.
Cumulative security and bug fix updates will maintain the current monthly delivery cycle. They will be downloaded directly, taking advantage of user downtime, although 'active hours' can be set for them. Microsoft promises a process "flawless, seamless" and a cut in the size of files required to be downloaded by Windows Update by up to 40%.
The delivery of updates has been a source of constant criticism and problems in Windows 10 and was a clear area of improvement for the new system. It was clear that Microsoft could not support two annual updates as it tried with Windows 10, and as most users (and all IT administrators) were asking for better to go for stability rather than a lot of updates that increase the number of bugs.
Those who do not arrive on time: Android for Windows
The Android subsystem for Windows was one of the big new features announced for Windows 11, but it's definitely has not arrived in time for the launch of the system. And it's a shame because it promised native Android app execution in a natural derivative once Microsoft has adopted Android as if it were its own operating system. It created a launcher, published apps for practically all of its software (mainly Office, one of the most downloaded of its categories on Google Play) and signed strategic announcements to include it by default in handsets such as those from Samsung.
It also brought mobile phone features to PCs with Windows 10's "Your Phone†tool with the goal of providing a seamless transition of content and features between devices. We'll have to make do with that, because this proprietary Android Subsystem (WSA), created in the style of the WSL created to support Linux, will have to wait.
Microsoft will deliver it "over the next few months" in a preview for Windows Insiders. It's not the only major new feature announced that doesn't arrive at launch. Microsoft runs the risk of releasing Windows 11 lame and users feeling like it's a mere âtuningâ of Windows 10 and doesn't include the new features that were promised, WSA as one of the big new features. We will have to wait.
And those who say goodbye
Cortana, the virtual voice assistant with which Microsoft wanted to stand up to Siri, Alexa and Google development, is the most prominent application of those who are deleted in Windows 11. The truth is that it has not been useful for almost any user and was long ago quite dead. On Windows Phone it worked, on the desktop, we won't miss it.
The timeline, the chronology that allows you to review part of the files you have worked with in the last month, is another of the functions that say goodbye. And Skype, although Microsoft has a clear replacement with Teams as the epicenter of the communications software that is installed by default in Windows 11 and that you'll see everywhere as an element to be pushed by marketing.
Bringing back Paint also means goodbye to Paint 3D and 3D Viewer for handling 3D. These types of technologies have been a fiasco in the consumer market and for professionals who do handle them there is other software that is much more powerful and specialized.
Versions
There will be seven client versions offered by Microsoft to cover consumer, enterprise and education:
Windows 11 Home.
Windows 11 Pro.
Windows 11 Pro Education.
Windows 11 Pro for Workstations.
Windows 11 Enterprise.
Windows 11 Education.
Windows 11 Mixed Reality.
There will also be an  "S" mode for the Home version much like the insubstantial and limited Windows 10, while the long term support version, a carbon copy of what some Linux distributions offer and important edition especially for companies looking for the highest stability and support guarantees, will not be available until the end of Windows 10 support. In fact, the next version of Windows 10 will be available for the first time Long-Term Servicing Channel will be based on Windows 10 21H2 and will be released in late 2021.
Installing Windows 11
Microsoft will distribute the new version of its operating system as a free upgrade for computers with Windows 10 and valid license, and through ISO images. For all cases we recommend that you make a backup copy of the system that you are using or at least back up the main files in case something goes wrong.
How to upgrade to Windows 11 from Windows Update
The method of upgrading from previous systems (Windows 10) is the most 'natural' way to jump to Windows 11. If you are still using Windows 7 or Windows 8.1, you can use the pre-Windows 10 upgrade (yes, it still works for free) or directly buy a cheap license of the system and upgrade from there. Remember that you need to upgrade from version 2004 onwards.
From here you can check if your computer is eligible for the upgrade (i.e. if it meets the minimum system requirements for Windows 11 ) using the application of "PC Status Check" that Microsoft has published. If your PC meets the requirements the program will return the following image
However, as we said above, the update will be rolled out in phases and very gradually, so it may still be weeks (or months) before your PC receives it in Windows Update. To find out, head on over to the Settings > Update & security > Windows Update and select Check for updates. If your device is eligible and the update is ready, you'll see the option to download and install Windows 11. If you're ready to install it, simply select Download and install.
If all goes well (make a backup beforehand just in case) the upgrade program will preserve installed applications, files, and user data in the move to Windows 11.
How to install / Upgrade to Windows 11
Another possibility that we use many users in a change of version like the one we are dealing with is the installations from scratch. It takes a little more work and time than updates, but has the great advantage that (in addition to booting with a clean copy of the system) it allows us to do a general cleaning of the software installed on the PC, the system registry and malware if it had camouflaged.
In practice and in the face of the very gradual deployment that Microsoft has announced, will be ideal for users who don't want to wait to receive the update via Windows Update. Microsoft has added several options on the Windows 11 download page to do so as you'll see in the image.
Method 1. The most direct and simple. Download the installation wizard  "Windows11InstallationAssistant.exe", run it and if your computer has previously passed the compatibility test you can update your operating system without waiting for it to be available in Windows Update. As simple as you can see in the image: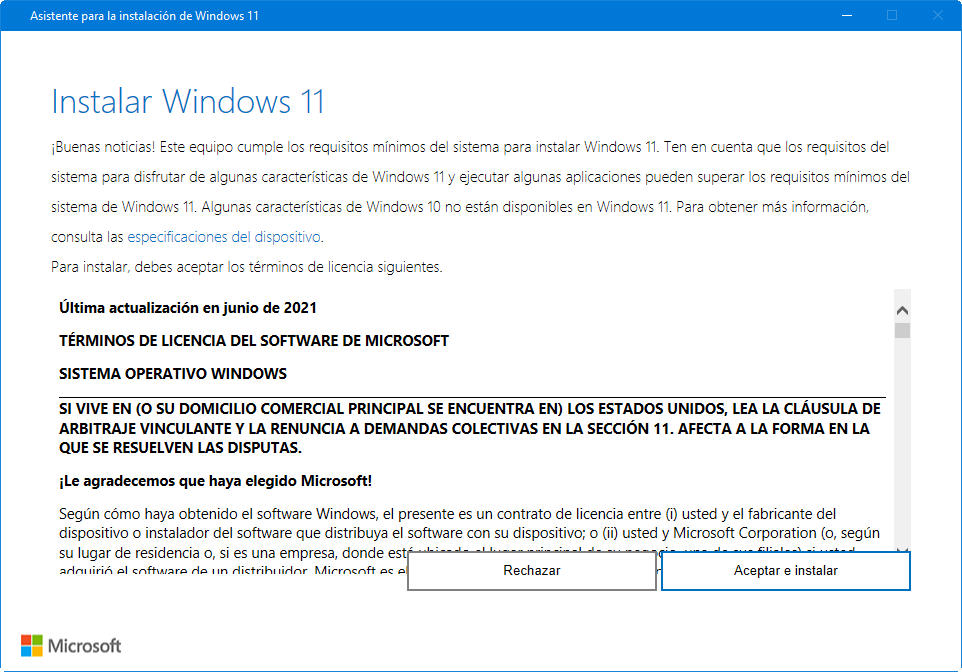 Method 2. The second option is well known because it is also used in Windows 10 media authoring tool to create a bootable DVD or USB and from there perform reinstallations, installations from scratch and also upgrades of third party equipment. Download the file "MediaCreationToolW11.exe" and follow the instructions. Once you have selected the language and edition, the wizard will display the option to download the ISO file or to create the bootable media for which you will need a flash drive of at least 8 GBbytes.
Method 3. This is the direct download of the ISO image of the operating system. It only consists of two steps, language selection and download as it is an image with multiple editions that will use your product key to unlock the correct edition, either Home or Pro. Once we have the image in our possession the process is identical to that used for  "burning" the image and create an installation media of Windows 10 or any Linux distribution. Here's a reminder:
We use our favorite application, Rufus, free and works perfectly especially with Windows images. Download and install. (You can also use the portable version)
Insert the media you will use in the recording. You can use a DVD, but we recommend a pendrive or USB disk, faster and safer. Its minimum capacity should be 8 Gbytes.
Run Rufus. You will see a very simple interface in which you will first have to select the downloaded Windows image by selecting the "Boot choice".
All that's left is to configure the rest of the options. GPT in "partition scheme", target system "UEFI (not CSM) and NTFS as file system. Click on start to get the installation media.
With the installation media created, either by the Microsoft wizard in method 2 or with third-party applications such as Rufus, you can install the system from scratch (almost) on any computer (regardless of requirements) and also upgrade third-party systems. The downloaded image also serves to run Windows 11 in a virtual machinea simple and powerful method to test the operating system without affecting the host PC itself.
We hope you find this guide useful, which complements the dozens of articles we have been offering you about the previous versions of Windows 11. And if you are not interested in anything new from Microsoft, don't worry, the world is not ending. And if you're using your computer for production tasks, don't worry it's best to wait a few days/weeks until it is absolutely stable.
And if you are looking for alternatives to Windows 11, you know, there are choices, starting with staying on Windows 10 until 2025 with official support; using a GNU/Linux distribution; switching to Apple's Macs; Chromebooks with Chrome OS which are the computers that have grown the most in sales or using more exotic alternatives such as FreeBSD.
Click to rate this entry!